Living and Breathing Delta
As an educator in the hospital system, Dan conducted in-services for nurses, medical students, pharmacists and physicians on new equipment and techniques in respiratory care. It was a natural progression to return to Delta, where he is now an assistant professor teaching a new generation of respiratory care providers.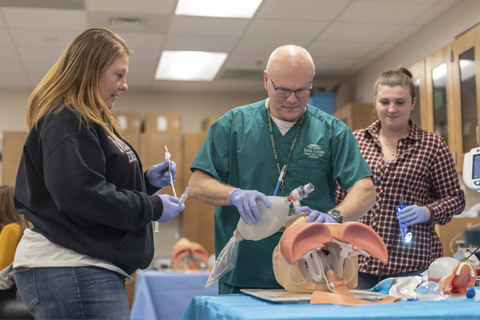 "Delta College provided me a wonderful foundation in my career, and I had an exceptional career," Dan said. "I was in Grand Rapids and in Saginaw and I flew in helicopters, picked up sick neonatal patients on ground transport. What I wanted to do was to give back to students. I had a wealth of knowledge that I wanted to share."
Dan is proud to be part of a highly regarded program, one that provides a solid foundation for a career in respiratory care.
"Delta has a great reputation. I have heard hospital administrators comment that the respiratory therapists that graduate from Delta College are far superior to others," Dan said. "And, we have a tremendous success with our graduates when they take their national boards. We are routinely 25% higher than the national average, which is exceptional."
Equipped for Success
Part of Delta's respiratory care program's success is because to the state-of-the-art equipment used in the simulation lab. Dan said becoming familiar with the latest high-tech life support equipment provides students with confidence as they head into clinical settings.
"Medicine changes, so as a respiratory therapist instructor at Delta College, I have to be astute to the changes within medicine," Dan said. "Then I bring those changes into the classroom because it enables the students to learn new concepts and it also helps our patients heal a lot quicker."
In addition to changes in medicine, Dan said he must meet the needs of a diverse range of students. Fortunately, Delta has a robust support system to help students succeed, starting with his own availability through office hours, through tutoring, counseling and much more.
"I like teaching at Delta College because I get to teach students for two years. I see them go from having never worked in healthcare before… to ready to join the workforce and take care of extremely sick people. That's exciting."
Dan Sabourin
Associate Professor of Respiratory Care
"I have students anywhere from 19 to 51 years old in my program," he said. "There are a lot of different life style difficulties and challenges. I try to help them balance them. There are a lot of resources at Delta College, but the first thing I always like them to do is come and I will help them out the best way that I can."
Are you interested in starting a career in respiratory care? Delta College is the perfect place to start. Apply now.