The Best Gig in the Whole World
Daisy graduated from Delta with an associate's degree in nursing, but it wasn't until she was working on her bachelor's degree and mentoring other Delta students during their hospital rotations that she found her true calling.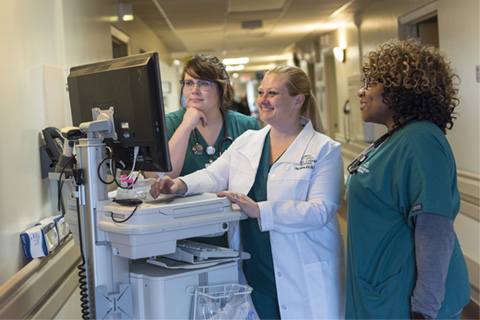 "One of the faculty at the university told me that I have a love for this, a drive for this, and an ability to share different learning experiences," Daisy says. "I realized that was very true. I went and started working on my master's right after I finished my bachelor's and I was hired here at Delta."
And working at Delta was like coming home.
"At Delta, everybody is part of a family, and we all take care of each other," she says. "The culture is about the students and what we can do to make our students successful."
Success doesn't seem to be a problem at Delta, where year after year, nursing students have passed their "boards" (licensing certification examinations) at a rate higher than the national average. Many of them go on to universities, such as SVSU, with which Delta has a concurrent-enrollment partnership, to earn a bachelor's degree. Many others are hired by local hospitals where they complete their leadership semester.
"The nurse managers are always like, 'Hey, do you have any more students?' They love our students," says Daisy.
Hands On, Hearts In
According to Daisy, there has been a lot of change over the last decade in nursing. The patients that come into the hospital now are often much sicker and their conditions are much more complex. Delta has responded with updated technology and simulations, including patient "manikins" that talk, blink and even "give birth." These simulations offer students hands-on opportunities to learn – and sometimes fail – in a safe environment.
"We have an excellent simulation lab that allows our students to practice and practice before they go out into the real world, and get those nerves out," says Daisy. "If they make a mistake, they learn from it. It gives them the confidence to go into a real patient's room and care for them."
Students also spend 147 hours in a real clinical setting, taking care of real patients and interacting with physicians, under supervision.
"I have the best gig in the whole world. I love teaching – every minute. Just the smiles that I see, the head nods saying, 'I get it.' It's awesome!"
Daisy McQuiston
Associate Professor of Nursing

Daisy tells the story of one student who started out with very little confidence. Daisy met with her every week to talk through her questions. As the weeks went by, she proudly watched the young student's confidence grow.
"When my students come to my class on the very first day, I want them to know I'm their guide. I'm here to help them reach their dream and be who they want to be," says Daisy. "They have excellent opportunities to grow here."
Are you interested in starting a career in the nursing field? Delta College's nursing program is the perfect place to start. Apply now.