Making Math Fun and Relevant
In all her years teaching math, Beth can recall only one student who actually wanted to major in math. What she often hears is her students don't like math, and will be happy to simply get through with a "C." Her response is simple.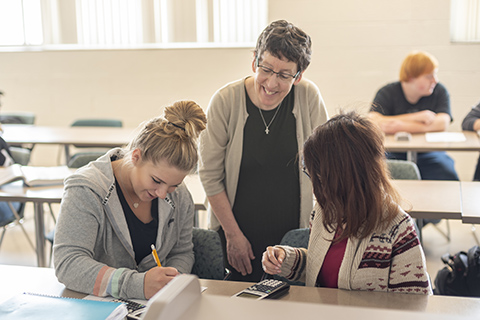 "I say 'We'll do better than that. You can really, actually enjoy this and take something away from it that you are going to use for the rest of your life,'" she said. "I like to lower the stress level and just find a way just to make it a little bit fun, a little bit challenging, and very relevant to their lives."
Plus, she is quick to point out that math really is relevant in some way in every field of study.
"I'm here for students who don't need to major in math, but who are maybe going into a STEM field or they're in the nursing program and they have to pass the nursing math class," she said. "My job is to help you learn. I'm not a brain surgeon, I can't get into your brain and actually connect those dots, but I can facilitate your learning."
Beth says the trick is getting students to persevere with math, and that working through a problem – like any kind of problem in life – is a great character building exercise that will serve them well in the future.
"So many students just feel like there is no control in math," she said. "But they need to be given the skills and their skills need to build to the point they feel like 'I've got this. I'm understanding it.' It's exciting when you understand something. I also tell students when you are good at something or you become good at something you actually enjoy it more. It's no fun to practice a new instrument and just barely get through it, it's the same thing with math."
Finding Her Place at Delta
Beth is originally from Ohio, and had no idea Delta even existed when she returned to teaching after a 15-year hiatus to raise a family. She had taught math at the middle school and high school levels, but when her husband returned to school as part of a career change, she did too, and got her master's degree. She's been at Delta ever since, starting at the Ricker Center in Saginaw and now on main campus.
"As I'm teaching and learning how to teach better, I'm finding that an even bigger key to teaching math is teaching students how to learn," she said. "I think that's even better than thinking. Because you can think and process and then forget it the rest of your life. But if you learn how to learn you are set for life. And once they grab that I am excited because the jobs that they are going to be looking at, 10 or 20 years from now, some of them don't even exist right now."
"I love teaching at Delta because people care about other people. I love teaching at Delta because I have a sense of purpose. And I love teaching at Delta because what I do matters."
Beth Kelch
Associate Professor, Mathematics
Describing Delta in a single word is impossible, Beth said. So she has two.
"One word is people, because people matter here to each other as colleagues and people matter to each other between students and teachers," she said. "And purpose, because it fulfills my purpose to care about other people and help them move ahead. But it is also the purpose of Delta, as a whole, being a key piece to enlarging peoples' futures and the future of this whole area. It's so critical that people develop the skills, and the abilities, and the mindset that helps them grow, learn, and make our communities even better."
Are you interested in starting a career in mathematics? Delta College is the perfect place to start. Apply now.