Galleria
Ready to see some great art by some amazing contemporary professional artists? We were too. So that's what we feature at the Galleria.
Located in the lobby of the S Wing, the Galleria adds a breathe of fresh air to the every day at Delta. Featuring an array of different types of art, from painting and ceramics to textiles and mixed media, the Galleria is a great way to pass time between classes and get a little culture along the way.
You might even find yourself meeting a featured artist, be drawn to take an art class yourself and discover a new passion.
Current exhibit
Dr. Jjenna Hupp Andrews
Of Revelations, Revolutions and Resolutions (and those left forgotten in between)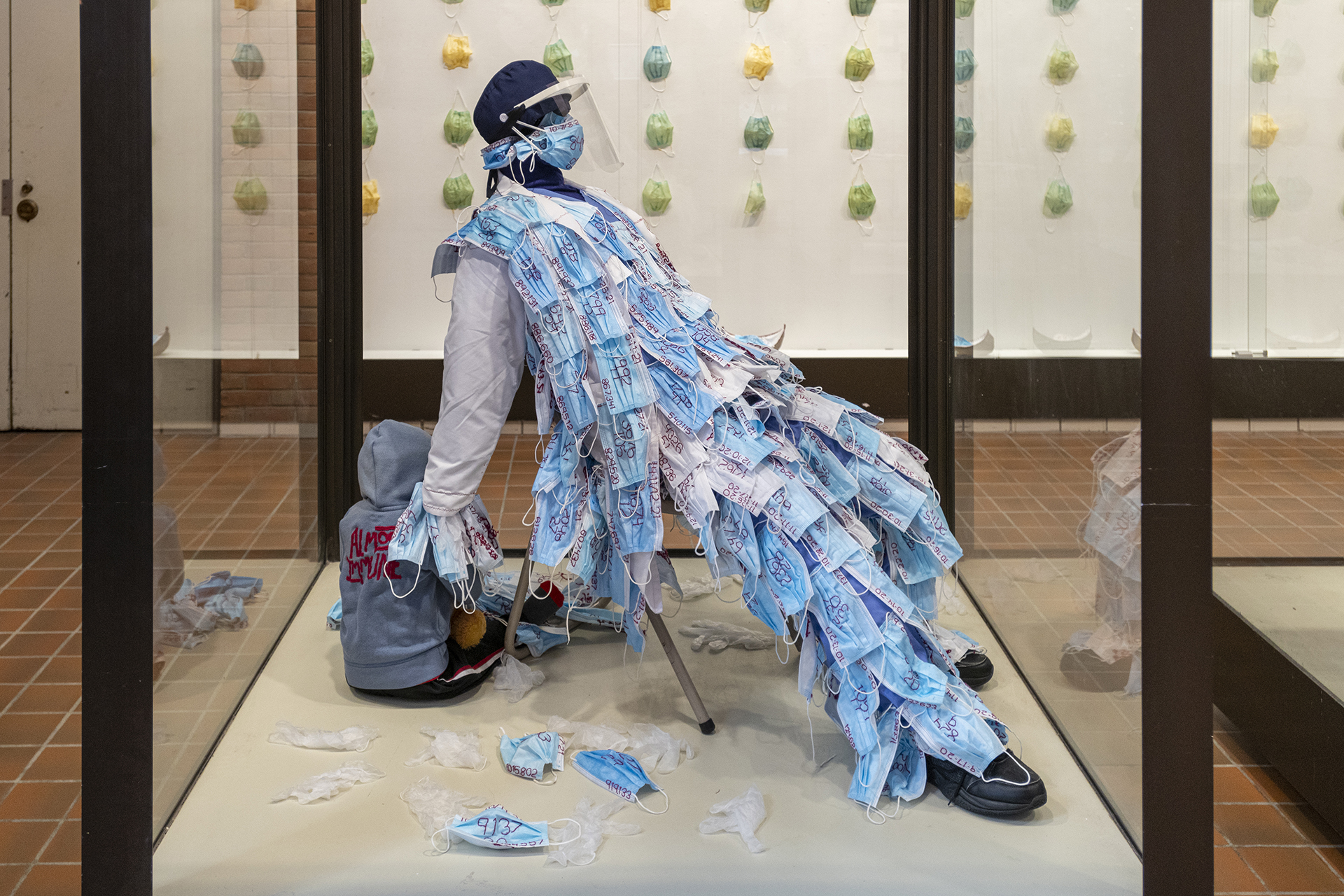 Artist's statement
In July of 2020, I had reached a point where I needed to do something with the masks my husband
brought home every day as an essential worker. I began embroidering the COVID-19 statistics that
the Michigan government reported everyday on their website. Each mask is embroidered with:
1. The date(s) the data referenced
2. The number of confirmed cases reported
3. The number of confirmed deaths
4. The total cases up to that date.
The masks included in this installation represent the span of time from July 2020 to
January 19, 2022.
This exhibition includes figures in my Suffer the little children... series, which started in 2016
with drawings in response to the wars in Syrian, Yemeni, Iraqi, Palestinian, and refugee children
who are growing up in war-torn countries. With the COVID-19 pandemic, I returned to drawing
portraits, but this time of children affected by the disease, especially those who are most
vulnerable, such as children of color, children in poverty, and also returning to the children in
refugee camps as well as those crossing our own borders, and children of color in the Black Lives
Matter protests of Summer 2020. These drawings evolved into sculptural installations.
Suffer the Little Children figures included in this exhibition are Almost Immune, which came
directly from The former President's statement earlier on in the Pandemic that children were
"Almost Immune" so there was no need to worry about sending them to school. The masks the child
plays with are those embroidered from July to September 1, 2020. STLC: Food Insecurity and
Homelessness developed as I was thinking about the added challenges and precarious situations that many of our children face outside the classroom but very much affect their learning. This
precariousness is only amplified by the COVID pandemic. STLC: Toxins was created as a child in our
near future if we do not address our own destruction nad poisoning of our environment, though, again, with the pandemic, this child took on a new meaning of protection not just against COVID, but also the deadly viruses that develop around us in today's
world.
The adult figure, Pandemic: Weight-Bearer (BUT MY RIGHTS!) developed as I continued to embroider masks; just embroidering them, though an act of meditation and contemplation for me, was not enough. I began thinking about the COVID conspiracy theories and the outrage of a very vocal minority against COVID mandates and how they contributed not only to the numbers being reported but also to the individuals filling the hospitals to overflowing. The Healthcare workers bear the weight of these statistics and they are not just numbers to them. They carry the weight of their
experiences with their patients, those that survived, and those who did not and yet they continue
with little rest for themselves.
One cannot think about conspiracy theories around COVID without also thinking about how our own
government and major media influencers have misled and outright supported some of these
conspiracies. I began to think of historic revolutions such as the French Revolution 1789 (one
should not listen to the Musical Les Miserable while working on sketches), the Umbrella Revolution
in Hong Kong 2014, and the Black Lives Matter Protests of 2020. I began to wonder if and when our
one society will decide they had enough and unite for a better, more equitable world. This is where
They Only Saw the Blade (and were still clueless).
The Suffer the Little Children: Refugees in the US references the children that were being detained
at our border, kept in cages with only an emergency mylar blanket given to them. This piece is a
return to the issue for me, though this time through the lens of the pandemic. The children at the
border are no longer being mistreated as they were during the last administration, though they are
many times still being separated from their families.
The final piece in this exhibition is Pandemic: The Nameless & Unconfirmed and emerged from
thinking about how the embroidered masks recorded the people who had confirmed cases of COVID, but that excludes those who are never reported, and those whose cause of death was recorded as
something else. These are the individuals who slip through the cracks and in many ways are not
acknowledged.
I continue to embroider the masks everyday the numbers are reported (currently 3x per week in
Michigan). As I perform this ritual, I am reminded that behind these numbers are individuals as
well as the individuals left out of these numbers. I think about how the numbers are in truth much
higher. I worry about the children, including my own, who are back in school, many not required to
be vaccinated or to wear a mask. I think about my own college students as I get the dreaded emails
of their positive test result. And as many in our communities go back to "normal" activities,
because they have to due to their precarious situations, because they are tired of the pandemic, or
just because they want to believe the pandemic is over.
I continue to embroider each number on a mask...
---
What's next at the Galleria?

2022 Exhibition Schedule
February – April
Jjenna Hupp Andrews – Of Revelations, Revolutions and Resolutions (and those left forgotten in between)
April 17 – August 2022
Delta College Art & Design Student Show
---
Be Featured

You could display your work at the annual Delta Art & Design Student exhibition. Every year, dozens of students are chosen. Become of them by considering a Delta College art class. Explore the possibilities.